G Michael Salon in Indianapolis, Indiana receives another great salon review
Happy Thursday Everyone! We want to share an awesome salon Review that we received from a Brand New guest of ours:
"My first experience with G Michael Salon was definitely a pleasant one! I left feeling welcomed and pampered! Being someone who doesn't get my hair done much, I went in for quite a change. A hair cut (donating 17 inches), baby lights, bangs (which I haven't had since elementary school) and a blowout.
My stylist, Lindsey, did anything possible to make sure I felt comfortable and just relaxed and enjoyed my experience. I LOVE my hair! Lindsey did an amazing job! It was quite a change for me but I'm so glad I followed through with it. My hair lays so much better and the bangs perfectly frame my face. The complimentary hand massage was a pleasant surprise! I look forward to my next appointment with Lindsey and will highly recommend this salon to others! :-)"
– Dominique F.
Indianapolis, Indiana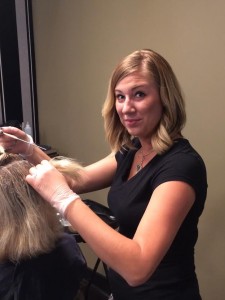 Thank you Dominique F. from Indianapolis, Indiana for taking to the time to write such an amazing salon review about your experience at G Michael Salon, we REALLY appreciate it!
Have a Wonderful Week Everyone!
<3,
– The G Michael Salon Team in Indianapolis, Indiana
‪#‎great‬ ‪#‎salonreviews‬ ‪#‎indysalonreviews‬ ‪#‎review‬ ‪#‎gmichaelsalon‬ ‪#‎indianapolis‬ ‪#‎indiana‬ ‪#‎hairsalons‬ ‪#‎thankyou‬ ‪#‎carmelindianasalons‬ ‪#‎noblesvilleindiana‬ ‪#‎fishersindiana‬ ‪#‎best‬ ‪#‎guests‬ ‪#‎ever‬ ‪#‎amazing‬ ‪#‎beautiful‬ ‪#‎salons‬ ‪#‎compliments‬ ‪#‎olaplexindianapolis‬ ‪#‎votedbesthairsaloninindy‬ ‪#‎experience‬ ‪#‎indy‬ ‪#‎westfieldindiana‬ ‪#‎hairservices‬ ‪#‎recommendations‬ ‪#‎attraction‬ ‪#‎yes‬ ‪#‎love‬ ‪#‎hiddengems‬ #bestever #humble #reallycares #touching #madeourday #bestindysalon #keystoneatironworks #ironworksbuildingindianapolis #herewecome #indysalonreviews #salonsindianapolis