G Michael Salon in Noblesville-Indianapolis, Indiana is THRILLED to unveil a VERY exciting announcement!!! G Michael Salon is now your EXCLUSIVE Hot Tot Haircare retailer for the State of Indiana!!! Featured in Parenting.com Magazine amongst many other publications, Hot Tot is the only professional styling line formulated for the physical characteristics of children's hair. The products omit any ingredient proven to be harmful to humans and are safe for use on children with sensitive skin and health-conscious parents.
And to add to the frenzy…Owner of Hot Tot Haircare, Megan Gage and her FABULOUS product line was featured on the popular ABC Television Network show Shark Tank on January 8th, 2013!!!
Shark Tank Synopsis: A new group of budding entrepreneurs take a chance at making their dreams come true by convincing five self-made, multi-millionaire tycoons to part with their own hard-earned cash and give them the funding they need to jumpstart their business ideas.
Will Megan and Hot Tot Haircare, (newly added product line to the shelves of Indianapolis's own G Michael Salon) get a deal with the "Sharks"!?
In the meantime, stop in to G Michael Salon in Indianapolis, Indiana and check out our new product line, Hot Tot Haircare for the stylish "Tots" in your life! You'll LOVE the way these products smell…JUST like a cabbage patch doll!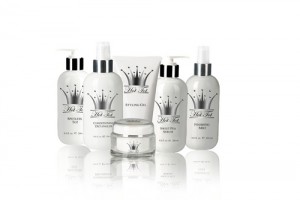 G Michael Salon
16095 Prosperity Drive
Suite 400
Noblesville, Indiana 46060
317-773-7700
http://www.gmichaelsalon.com